Right next to the Göta kanal you will find our cozy café. Here you can have a delicious ice cream and enjoy the surroundings.

In Berg there are accommodation alternatives for all needs. Stay at our hostel, cozy cottages or parking for your motorhome.
Take the opportunity to try Sweden's best adventure golf right at the hostel. Entertainment for everyone!
Treasures of Berg
Hundreds of thousands of people from all over the world come to the place that many consider one of Göta Kanal's main tourist gems.
The recreation area around Carl Johan's lock stairs and boating in Berg is popular thanks to the fact that the place is close to everything. Here you will find bathing and fishing waters as well as magnificent greenery, grocery store and restaurant.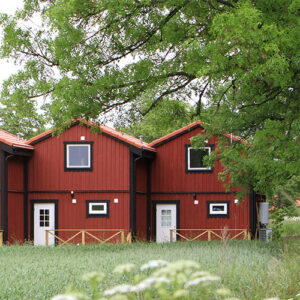 Opening hours
May 1 - May 12 10.00-18.00
May 13 - June 4 09.00-20.00
June 5 - June 13 09.00-21.00
June 14 - Aug 8 08.00-22.00
Aug 9 - Aug 15 08.00-21.00
Aug 16 - Aug 29 10.00-20.00
Aug 30 - Sep 5 11.00-18.00
Sep 6 - Sep 12 11.00-18.00
In unstable weather, opening hours may vary or be closed. For more information, please contact us.
Contact us
Telephone: +46 13-603 30
Email: info@bergsslussar.com
Address
Bergsslussar vandrarhem & Äventyrsgolf
Oscars Slussar 2
585 77 Vreta kloster
Tripadvisor
Read our reviews on Tripadvisor.
Under vår cykelresa längs Göta Kanal hade vi ett skönt stopp vid Bergs Slussar. Vi hyrde en stuga för fyra vid gästhamnen. Rent, fräscht och med allt vad vi behövde... read more för en god natts sömn. Ett stopp längs kanalen som vi verkligen kan rekommendera.

ThomasX59


July 31, 2019

Ny och fräsch stuga. Vi trivdes väldigt bra, fint och mysigt område. Har dock två små klagomål. Vattnet i kranen var hemskt varm. Det gick från 1 till 10 direkt.... read more det fanns inget mellanting. Så vi hade valet att diska i fesljummet eller rövhålet-på-en-döende-stjärna-varmt. En kran skall inte spotta ut helvetiskt vatten så enkelt. Riktigt nice då man sparade tid på att koka vatten dock.
Stugan verkade även vara en plats ditt flugor vallfärdade för att dö. Typ som elefantkyrkogården i lejonkungen, fast med flugor. Inte personalens fel eller så men... fett weird.
Annars var vår vistelse hemskt bra, 9/10, would do again.

danielew128


August 1, 2021

Trevlig personal
Fräscha rum
Mysig miljö
Fin cykeltur utmed Göta Kanal
Rolig och utmanande äventyrsgolf
Restaurangerna som ligger nära var dock ingen sensation.
Rekommenderar er att åka hit för... read more en fin upplevelse bland slussarna

Christer H


August 9, 2021