Right next to the Göta kanal you will find our cozy café. Here you can have a delicious ice cream and enjoy the surroundings.

In Berg there are accommodation alternatives for all needs. Stay at our hostel, cozy cottages or parking for your motorhome.
Take the opportunity to try Sweden's best adventure golf right at the hostel. Entertainment for everyone!
Treasures of Berg
Hundreds of thousands of people from all over the world come to the place that many consider one of Göta Kanal's main tourist gems.
The recreation area around Carl Johan's lock stairs and boating in Berg is popular thanks to the fact that the place is close to everything. Here you will find bathing and fishing waters as well as magnificent greenery, grocery store and restaurant.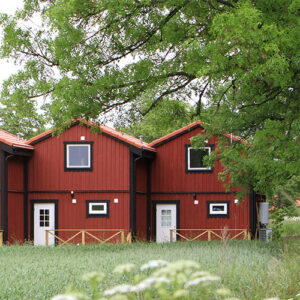 Opening hours
30 april-6 maj 11.00-18.00
7 maj-15 maj 10.00-19.00
16 maj - 25 maj 10.00-20.00
26 maj - 12 juni 09.00-21.00
13 juni - 7 aug 08.00-22.00
8 aug - 14 aug 08.00-21.00
15 aug - 28 aug 10.00-20.00
29 aug - 11 sept 11.00-18.00
In unstable weather, opening hours may vary or be closed. For more information, please contact us.
Contact us
Telephone: +46 13-603 30
Email: info@bergsslussar.com
Address
Bergsslussar vandrarhem & Äventyrsgolf
Oscars Slussar 2
585 77 Vreta kloster
Tripadvisor
Read our reviews on Tripadvisor.
Bodde två olika nätter i stugor. Ombonag med allt vi behövde. Fin omgivning. Lugnt. Kan mycket väl tänka mig att bo där igen. Sköna sängar.
Vi hade egen frukost... read more med men ställer fixar frukost om man vill.

evat789


August 23, 2021

Stannade för en kopp kaffe i det fina vädret, på väg hem från jobbet. Mycket härlig utsikt vid de sju slussarna vid Göta kanal. Massor med folk som strosade runt... read more dammen och solade runt slussarna. Gott fika.

192ullam


January 1, 1970

Långhelg med barn - Helt fantastiskt läge, några steg från floden lås. En mycket bra restaurang i närheten av, stormarknad, glassbutik. Möjlighet för spårning och paddling. Minigolf mycket trevlig men mycket lång cue för... read more varje hål. Behöver mycket tålamod, särskilt om du är med små barn. Vi bodde i den lilla stugan. Stor fördelning, mycket fönster / solljus. Negativ: inte mycket ren (i stugan brutet glas på köksmjöl, smutsiga rätter, spindlar i sängen, utanför enorma mängder cigarettstöt överallt), inte barnvänlig (vi har fått bekräftelse via e-post att barnstol är tillgänglig men där är bara en i restaurangen som du bara kan låna, säkerhetsåtgärder finns - men i mycket dåligt skick). Slutsats: vi kommer gärna att gå tillbaka igen men under skick.

Milos S


January 1, 1970